Give the Gift of Lit!
This Holiday season A.P Stephens the author of
THE WHITE SHADOW SAGA: THE STOLEN MOON OF LONDOR
came to Podiobooks.com authors and said join me in spreading the word about literacy for the holidays. Here is what his blog says and her are a few of the authors that jumped on board.
"It is with great pleasure I bring forth and introduce you to The Gift of Lit, a collective effort by many of the fine authors from Podiobooks. Together, we would like to share with you our diverse works and invite you to take a look at the nice selection of books we have spent hours, days, months, or years writing.
The Gift of Lit: Holiday 2009 is now here. If you are looking for a great gift this holiday season, rather it be for a family member, friend…or for yourself, take a look at the list below and give one, some, or all of these books your consideration. There are books to suit your needs this holiday season. Here, you will find fantasy, sci-fi, crime drama, speculative fiction, techno thriller, and much more. Help support these authors and spread the joys of literature. Give spark to imagination.
Below, take a look at all of the different titles offered and follow the links to purchase your own copy for yourself or to give that special someone this holiday. Yet, no matter the time of year, The Gift of Lit will be sure to please all readers."
And from Lulu
Drew Betty's Lost Gods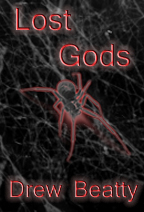 (starts at $15.50 new)
Kweku Anansi is just another member of the African diaspora, trying to
make a place for himself in his adopted home of Toronto, Canada. He
dreams of better days, of a time when he could stop running small time
cons just to make the rent. He dreams of the life he used to live,
centuries ago when he was revered as a god.
A chance encounter with a fellow con man with a dark and secretive
past of his own, plunges them both into the dark world of the lost
gods, gods who would do anything to be worshipped again. Including
destroying the world, if necessary.
How far will Anansi go to reclaim his godhood? What will he give up to
have true power again?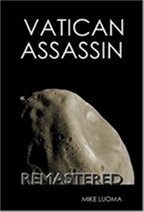 THE VATICAN ASSASSIN TRILOGY by Mike Luoma
Buy it here at >> Lulu << (starts as low as $35.99)
This three in one omnibus edition collects all three novels in the "Vatican Assassin" Trilogy under one cover. "Vatican Assassin", "Vatican Ambassador" and "Vatican Abdicator" are joined in this volume by an extensive appendix of previously unreleased background material. There are some early concept sketches by Mike Luoma, as well as "The History of The Future": a timeline developed to extrapolate from today into the future setting for the story; "The Original Story Outline"; "The Story of The Project"; "The Alien Timeline" and more.
Tags: 7TH SON: DESCENT, A.P. Stephens, arlene radasky, brave men run, brian rathbone, CHASING THE BARD, CITY OF MASKS, David Lee Summers, DREAMING OF DELIVERANCE, Drew Beatty, Emerian Rich, J.C. Hutchins, Jack Wakes Up, LOST GODS, Matthew Wayne Selznick, Mike Luoma, Mike Reeves-McMillan, NIGHT'S KNIGHTS, Philippa Ballantine, R.E. Chambliss, Rhonda R Carpenter, Seth Harwood, The dawning of power, the fox, The Gift of Lit: Holiday 2009, the mark of a druid, THE PIRATES OF SUFIRO, THE VATICAN ASSASSIN TRILOGY, THE WHITE SHADOW SAGA: THE STOLEN MOON OF LONDOR