Sunday, May 24th, 2009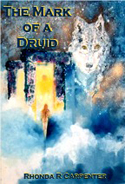 Welcome Readers,
We already have one winner in the Meet the Characters Contest #8 and there is still a week to go. On May 31, this contest will end and on June 1, 2009 the Winners will be announced.
The section Meet the Characters will still be under development. Don't be surprised even after the contest ends if your name is selected for a bonus prize because you talked to the characters. This will be a random
I have received several new reviews and comments on the book. So I would like to thank those on Itunes because there is no way to reply to them.
Thank you for Reviewing and rating The Mark of a Druid! It means the world to me
Tracey Tay, Cassiopia, Jedanatc, Finisp, Artnerd, Obedientfollower, DannyCat, PollyP, Geoggrrr…4, Jacksongril1998, Suuu. You all rock! Thank you so much for taking the time to leave a review and rate the book. Please feel free to post the review on Amazon too and help spread the word.
Coming soon will be a new trailer for the book. I am currently knocking out about 1000 word ever two days on the sequel, When Either Descend. At the same time I am working on, Truth Slithers.
The next contest will start on June 1, 2009.
Huge thank you to all the new subscribers to the new book site. www.themarkofadruid.com. If you haven't subscribed it is really easy and quick. I hope you will join now. Until next time, take care.
Keep Writing, I Know I Will!
Rhonda R. Carpenter